Dancing Balloons and Wind Dancers for every Budget.
Dancing Balloons, tube dancers or wind dancers; whatever name you use for them, can be outrageously expensive and there is no need.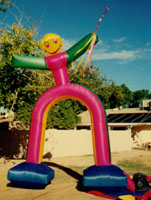 Don't pay $600-$900 for a blower when it is unnecessary. Our $389 blower is the same blower most other companies sell for $749.00 or $859.00. Buy your dancing balloon from us and save enough for a down payment on a car!

Dancing balloons are made of a very light spinnaker material. There is no reason to spend $3000.00 for a 20' tall dancing balloon.

Try our single leg puppet, double leg puppet or our rainbow arch dancers and save your money.

There is a patent holder for air balloons with multiple air openings; therefore, all our puppets and dancers have our sturdier to wind single air outlet.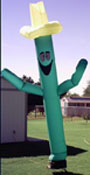 Dancing balloons do not take a lot of wind, maybe 20mph before they are FALLING OVER ON THE GROUND! We want all our customers to know all the information regarding the performance of dancing balloons. Dancing balloons are primarily used for indoor events where wind is not a problem.

Because dancing balloons are made of the very light spinnaker material it will not last for long in the sun or where it comes in contact with the ground often. Always use a tarp under your dancing balloon.

We have many colors available and we will work with you on any design.