>> Patriotic Promotional Balloons
Patriotic Balloons - Advertising Inflatables!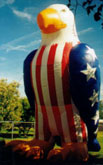 If you need giant Patriotic Inflatables or patriotic balloons for your event give us a call. We have Eagle inflatables, Uncle Sam inflatables, Statue of Liberty inflatables, firecracker inflatables and many patriotic balloons and advertising blimps.

President's Day, Flag Day, Independence Day and many other holidays can use our patriotic inflatables and patriotic balloons.

We have cold-air patriotic inflatables and helium patriotic balloons available for sale or rent.

These are also great as parade balloons. Put them on a trailer or flat bed truck or walk our helium balloons just like in the Thanksgiving Day Parade.
Call us and ask a free quote about advertising inflatables or custom balloons. We'll deliver your advertising balloon where you want to.