>> Sports Balloons - Event Marketing
Giant Advertising Sports Balloons!

We manufacture sport balloons and inflatables. If you need a helium baseball balloon, helium , football balloon or any other type of custom inflatable please contact us.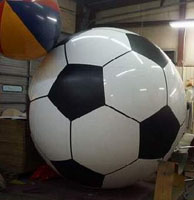 We have giant helium baseball balloons, giant helium football balloons, giant helium soccer ball balloons and giant helium basketball balloons.

Advertising balloons, Advertising Blimps and Advertising Inflatables for all Sports are available here!
We also have giant cold-air advertising balloon footballs, basketballs and baseballs available to rent.